​​​​​​​
The Baltimore Neighborhood Indicators Alliance (BNIA) is a non-profit organization tasked with collecting and distributing key demographic information about neighborhoods in Baltimore City. The organization was planning a rebranding and contacted University of Baltimore for help with how to better engage users. In its previous state the website served as database for a wealth of information, however many users had found the site to be burdensome, and unorganized. As the organization had grown in terms of what resources they could provide to users there had been no consistent vision of how to present information. This had created a situation where web content had grown organically unorganized with no direction. Users often found navigating the website frustrating, and had been reluctant to engage with content in the way that BNIA hoped.  To help BNIA with their goal of reinventing their digital space, a team of students including myself worked together to present them with a clearer vision of how information should be presented on their website.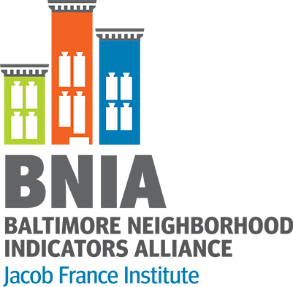 It was important for this redesign to capture what BNIA is and what it represents. The organization found that users/visitors were often confused on what resources they provided, and who they were. We worked with BNIA to help clarify their role in the community as an information database. Using information we had on resources BNIA already collected we helped them identify a target audience for their digital presence. The site had originally had all Baltimore city residents as a target population, a group that is too large and diverse for an organization of this scale to manage. Instead we identified residents most inclined to need information of this detail such as developers, politicians, and academics. Using this as a start point we began to think about how these individuals would need to interact with the website using personas.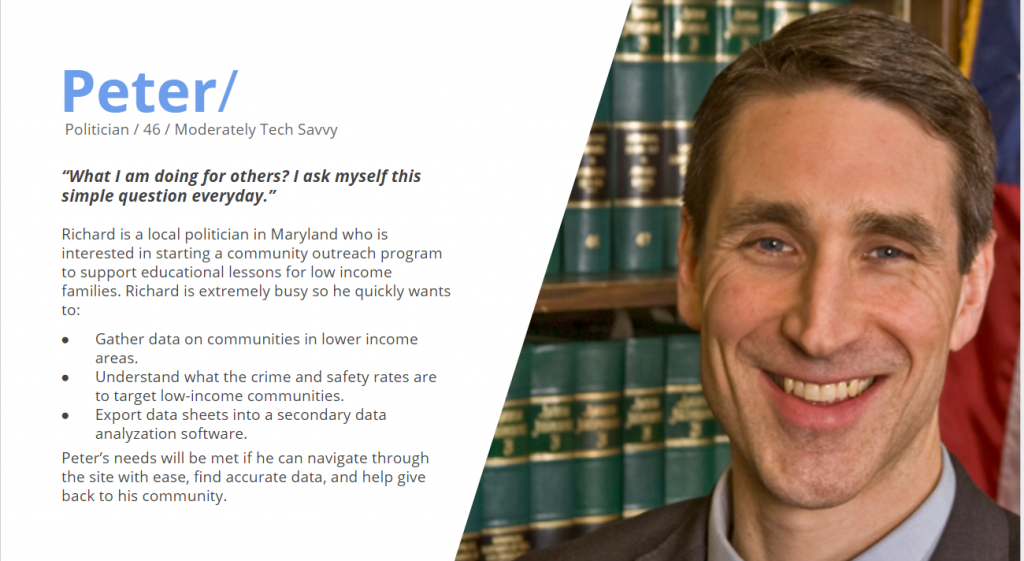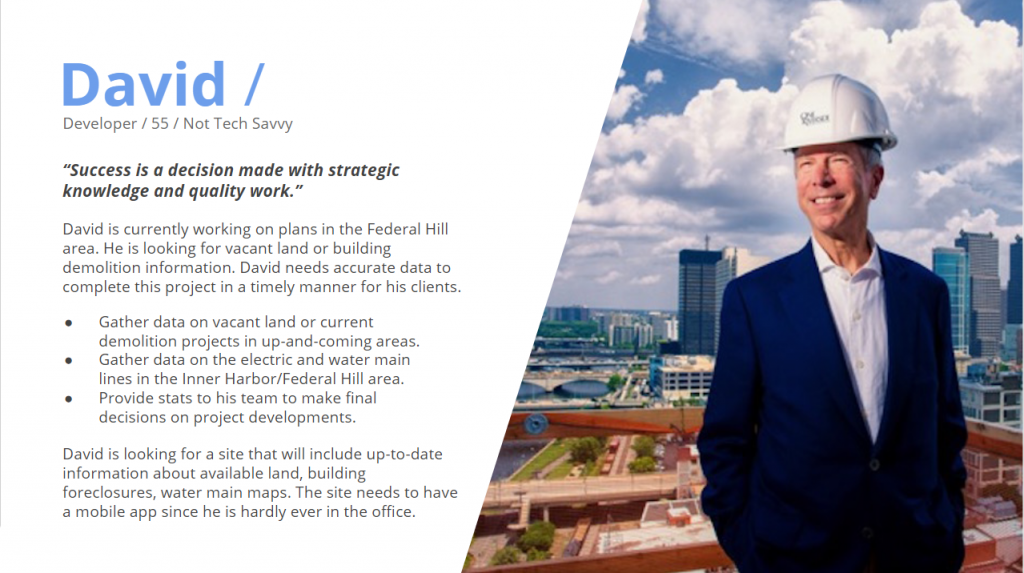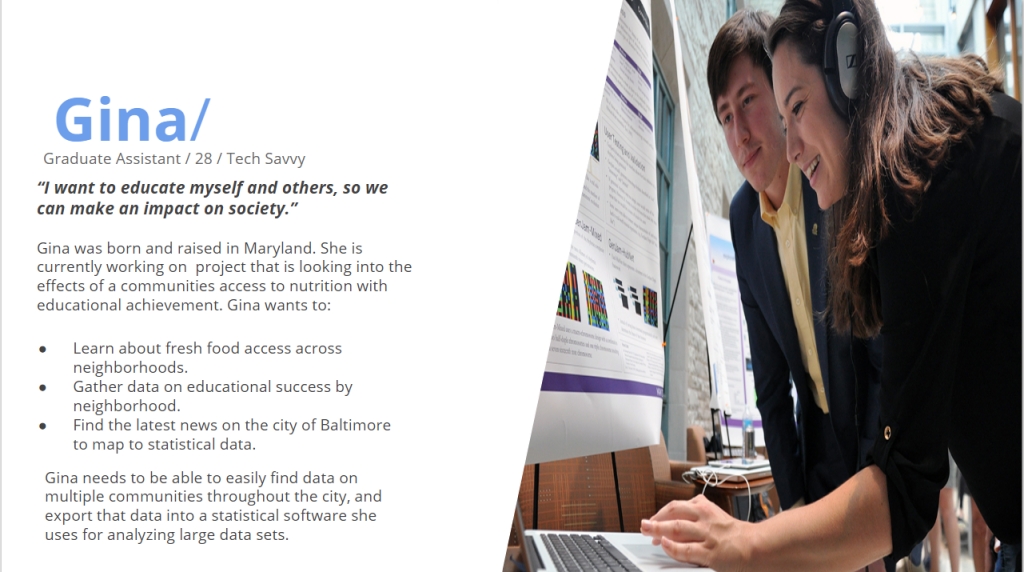 To begin we worked together to conduct an expert review of all content on the website. The review was used to help identify issues of concerns, along with to audit all features and content the website had to offer. Once the review was completed we began to explore how users could best navigate the large amount content the website hosted. To assist us with this we tested thirty users using both a  card sorting, and tree navigation test to understand user preferences. 
The review and subsequent testing found that the site's architecture was flawed, pages often led users into a hole without a way for users to back out leaving users disoriented in a mire of pages. Based off of web analytic data we were able to determine that most users were spending only 5-7 minutes on the website, however testing found average user times to be much longer leading to a belief that users were abandoning the website due to its complex nature. We also found that pages were labeled unclearly resulting in users just randomly browsing while searching for specific pages. Additionally we found that websites layout sometimes varied from page to page causing added cognitive load for users.  It is also important to note that we found some minor issues with formatting, such as font size and color choices that made readability harder for some users. 
Using the card sort and tree navigation test we began consolidating the main menu of the website. Content was shifted into a manner that users found easier to navigate and find needed information. We felt that lack of findability was the major flaw of the current design and that without restructuring content users would continue to be frustrated. To ensure the easiest user experience as possible we continued to speak with both BNIA and users to see exactly what they wanted out of a website. Users found it important that they were able to quickly access the content they needed, speaking with BNIA we were able to determine exactly which tools and content was most popular among users. To help users accomplish their goal we made sure to design the site's architecture in a way that reflected both navigation activities along with content's popularity and importance.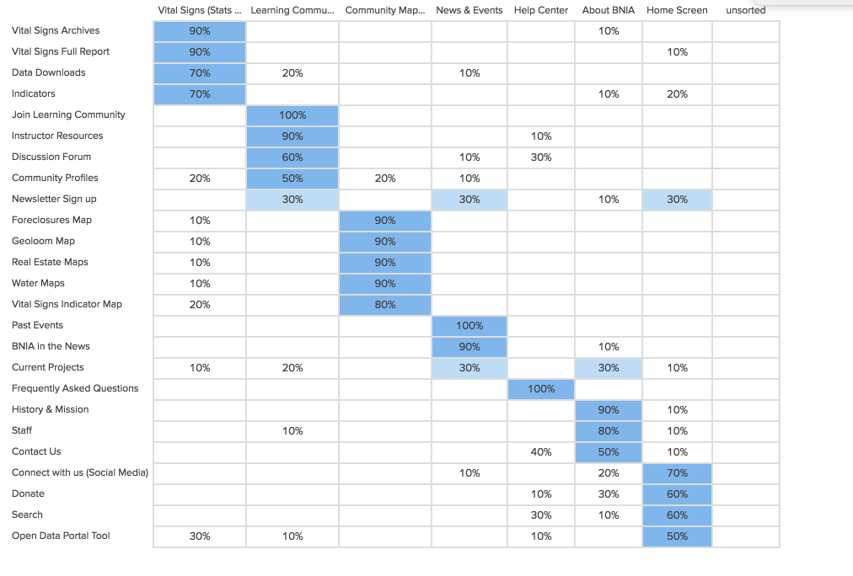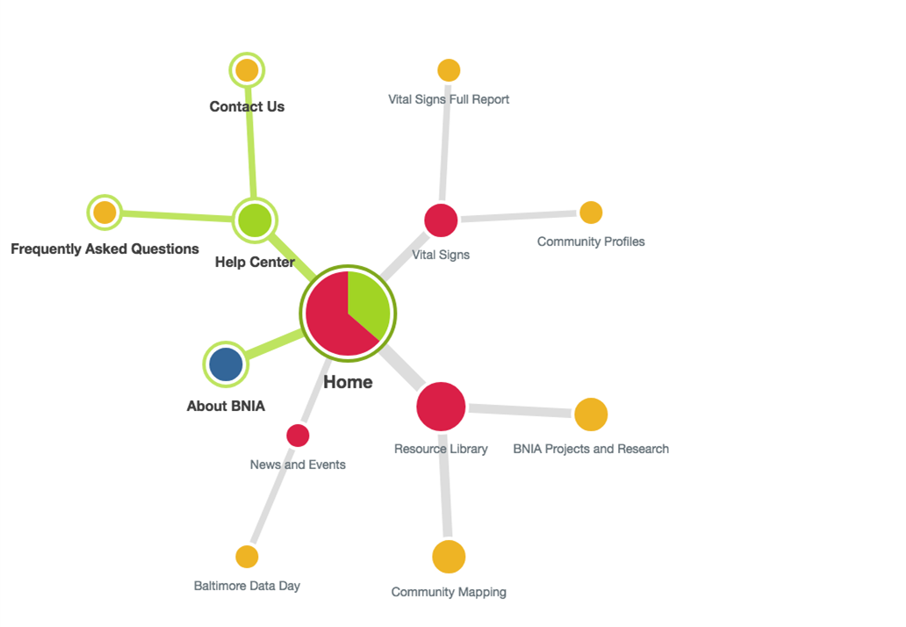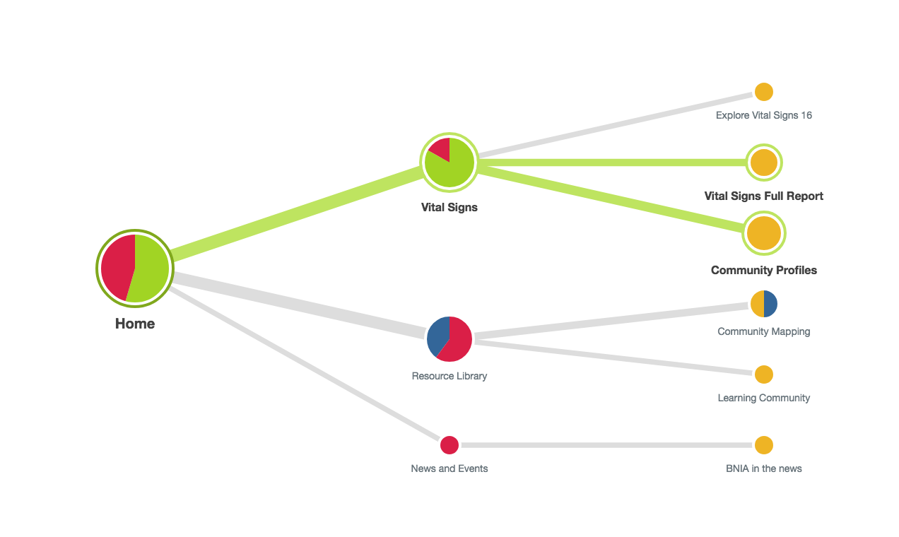 Based off the information collected during the user-testing, expert review, and interviews with BNIA we were able to design a high-fidelity prototype of what the BNIA website should ideally look like. We wanted to present BNIA with a cleaner web presence that helped users complete their task in the quickest time possible.  To accomplish this we made sure to encourage BNIA to highlight select features, such as the popular Neighborhood Vital Signs tool which allows users to look up demographics on specific communities. Since BNIA is a non-profit organization that relies on funding via charity donations we found it important for the organization to incorporate an invitation to donate option wherever possible. Font was also formatted to allow for a consistency, headers, paragraphs, and subtext were all altered for easier readability. Using card sorting we were also able to provide BNIA with a recommendation on how the site's content should be organized to ensure ease of navigation for users.
 BNIA was also provided with a marketing strategy report highlighting all the different ways they could capitalize on a redesign. The report featured both short term and long term recommendations that would help grow the brand and keep content fresh.  Below you can see some snapshots of the final redesign, along with a copy of the BNIA marketing report and prototype