The city of Baltimore historically has had a troubled history with segregation and discrimination. The city served as the blueprint for racial housing segregation, implementing some of the nations first racial housing covenants predating the Jim Crow laws of the deep south. This has led to one of the nation's largest wealth and racial gaps more than 50 years after many of these policies and laws have been repealed. The divided city has spent the last few decades trying to think of innovative ways to help bridge these communities and create more equal opportunity for all residents. Volunteering historically has been used to help bridge the gap between these two worlds, allowing individuals to come together to build skills while also helping to better their communities at large. 
A group of students including myself were tasked with building a prototype for an application that would work to help connect volunteers across socio-economic backgrounds within the city of Baltimore. The application would need to be designed in way to not only allow for the wealthier residents to access volunteer opportunities in lower socio-economic areas, but also allow for residents of the city's poorest neighborhoods access to opportunities in wealthier communities. 
We began the process by establishing who are users would be and learning more about them. We decided to focus are design around millennial users, specifically those in their early 20s to early 30s. This decision was made based off some preliminary research that showed these users were more likely to engage in social activities, engage in technology, and more open to exploring cultures and communities outside of their own. After choosing a target group we dived in to learn more about the characteristics of these groups, what resources they currently had, and most importantly what motivated them. Of course millenials being a very diverse group these answers varied based of their social, racial, and economic status. 
Once we had a clearer idea of how our user group behaved, we asked ourselves what social volunteering applications already existed and how had these applications have succeeded and failed. We drafted a matrix to better compare the differences. Using this we were able to better design our application using industry standards, while also avoiding some of the shortcomings we noticed from many of our would be competitors. Features that we found most important to incorporate into our own application were a smart match feature, a volunteer portfolio, and an integrated social media option. 

Using this information collected from this process we began drafting up a rough design of the application.  Since the application would work to pair individuals with organizations we knew that we would need to develop a two-path application, allowing for a volunteer experience, and an organization experience. Using notecards we drafted up the final stage of several different processes including, new user sign up, contacting an organization, and finding an opportunity. Once our final screens were designed we began to think backwards about how an application would get us there. For each step in the process we drew up additional notecards. Once completed the notecards were used for a round of user testing. User's were asked to try and complete one of several tasks. Participants for testing consisted of a group of millenials with professional backgrounds ranging from dog walker to volunteer coordinator. By testing with such a diverse group we were able to garner feedback on both the volunteer path along with volunteer organization path. Feedback from this round of testing helped us further understand how our user group would be interacting with the application. Features such as back buttons, in-screen help icons, language, and tone were all modified based off of our initial testing.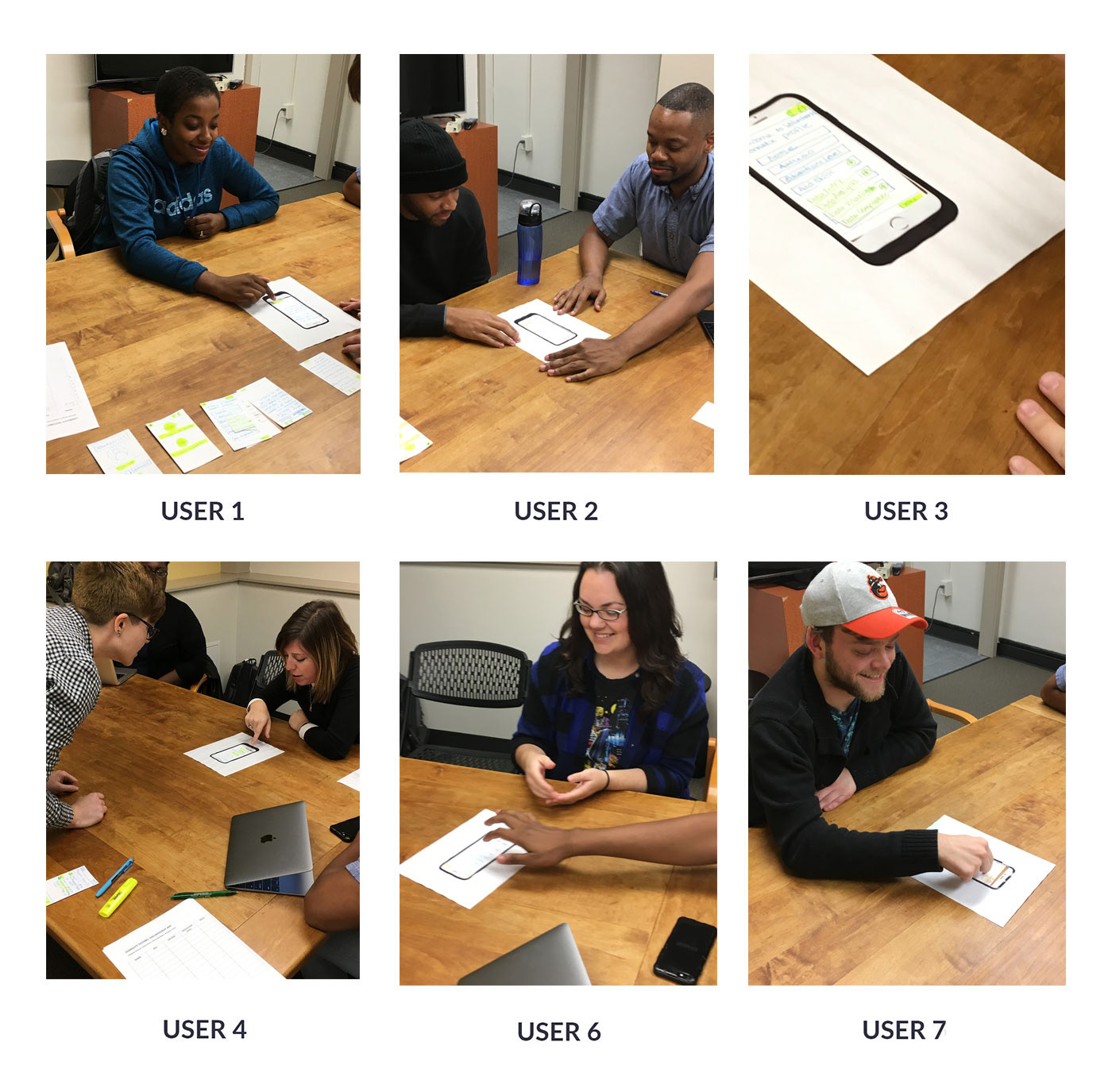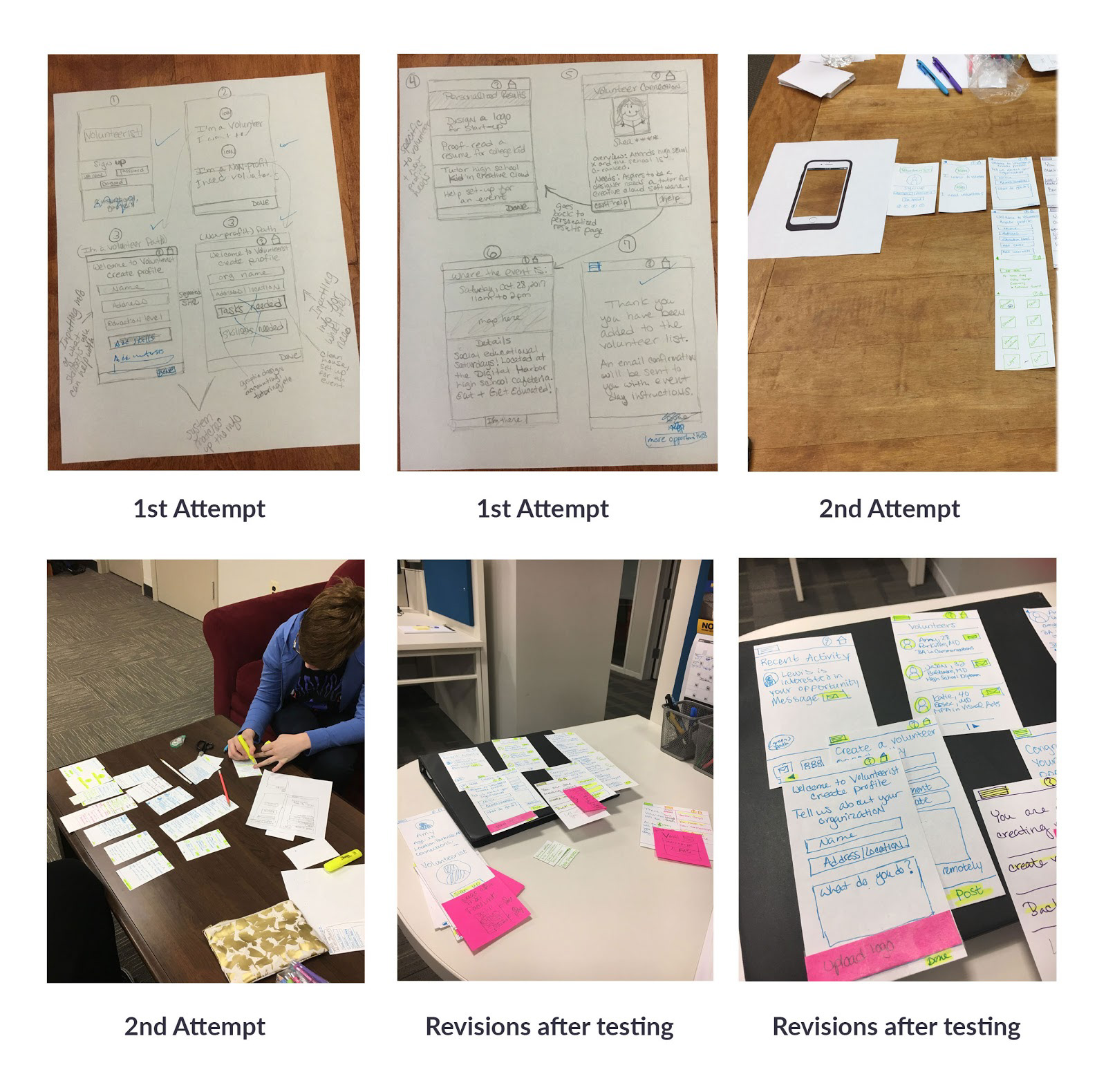 Following the completion of the first round of testing and feedback session, we began to create a high-fidelity prototype for further testing. Testing with both volunteers and organizations allowed us to see first hand how the needs of these two differed. Volunteers expressed concern over the legitimacy of organizations, they wanted to make sure that the work they would be providing would be legitimate and not a scam. Organizations on the other hand worried about how they would be able to integrate this system into their existing volunteer recruitment protocol without increasing workload on staff.  We took these concerns into mind when redesigning the prototype, incorporating features such as a verified statuses and auto-reply email options for organizations. 
Using Axure we were able to create an interactive version of the application that participants would be able to use from a mobile device. The new interface allowed users to get a more realistic expectation of how they could expect the application to work. Participants were from the first round of testing were called back to participate again in this portion. Testing found smaller but very significant changes to things such as language, icon size, and .menu layout.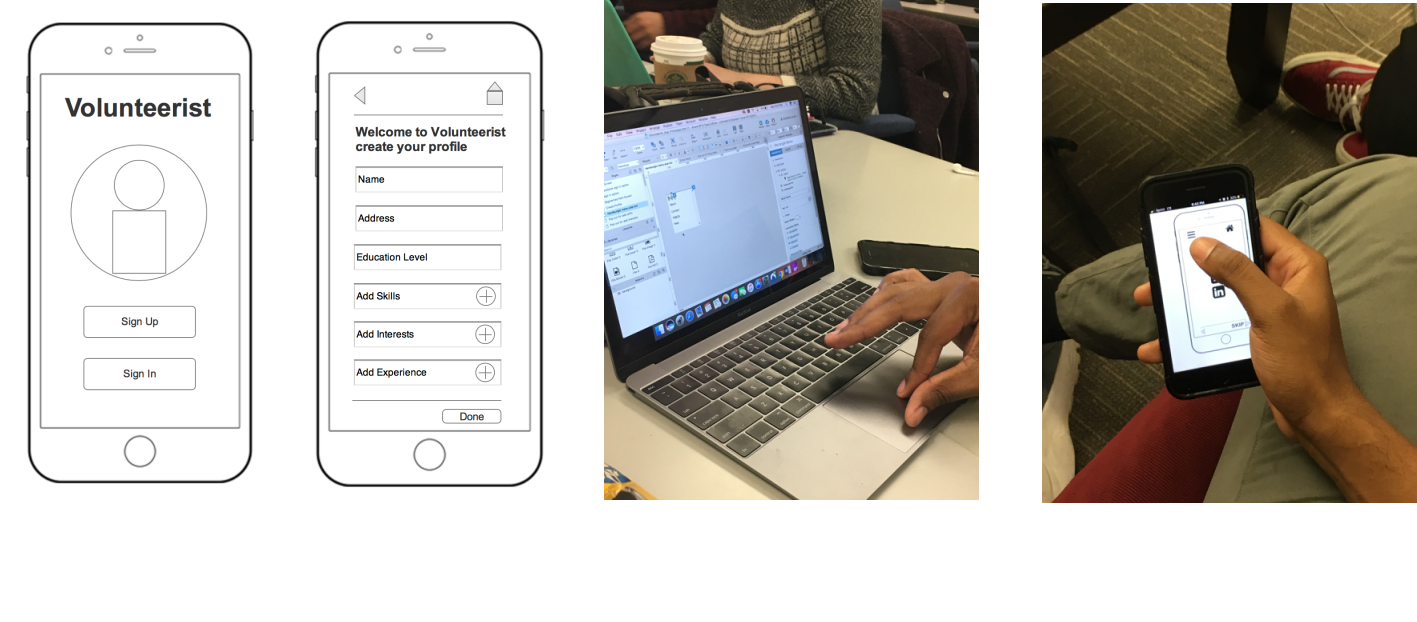 In the end we used the information gather to design a fictional application  titled "Volunteerist". The purpose of the application being to bring together volunteers from across the wealth divide for community improvement and professional development.      
Volunteerist is an app that enhances the volunteering experience by making it easier for volunteers and volunteer organizations to connect over shared interests. Unlike standard recruiting methods that often involve targeted efforts by organizations or self-selection by volunteers, Volunteerist's "SmartMatch" option adds another dimension to volunteer recruitment: location. In many metropolitan areas, including Baltimore, de facto economic/educational/racial segregation is still a reality, so connecting volunteers and organizations across zip codes promotes social change and growth.
Volunteerist features two paths for users: the volunteer path, and the organization path. Both groups must create a profile and provide relevant background information (volunteers must list their interests and experiences, and organizations must list their location and mission). Organizations then create volunteer opportunities, and volunteers can apply for these opportunities through the app, either by browsing for opportunities or using the "SmartMatch" function. Organizations then review prospective volunteers, and contact them via in-app messaging to discuss specifics such as scheduling, training, etc. The task flow is simple for both parties, since we envision a variety of organizations and people using this app; the more open-ended and basic the app's functions are, the more customizable it is for various organizations. The app features the ability to network both within the app, and to cross-post to other social media platforms (such as Facebook).